Cornish Funfairs Blog
Padstow 'Obby 'oss 2014
Details
After a near wash out at Camborne Trevithick day,  David Rowland and Sons are off to Padstow for 'Obby 'Oss celebrations on May the 1st.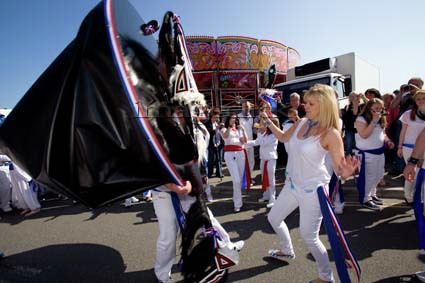 Not sure if that's Rick Stein under there.
Trevithick Day
Details
Following a run on Plymouth Hoe to the 21st April, D.Rowland and Sons are now off to Camborne for Trevethick Day on the 26th April. http://www.trevithick-day.org.uk/index.php
Easter 2014
Details
Easter 2014.
While writing this, I have just driven through Devon and Cornwall (in the rain) and it doesn't feel much like Spring at all.
Anyway - after Dvid Rowlands had been Barnstaple for the two weeks to the 30th March they have now spent the week to the 5th April at Penzance. They are now travelling to Plymouth Hoe for 11-21st
Meanwhile A&R are split in at least thre section with one section over at Central Park Plymouth from 4th to (I believe) the 24th April while others are at Paingnton and Plympton.
I am in Redruth at the moment, so will see if anything is happening there.
Half Term Fairs
Details
After the wettest winter for 1,000,000 years in the West Country it was no surprise that there was little enthusiasm for fun fairs in fields this Feb 2014.
Anderton and Rowlands opened just along from Dawlish (where the railway was washed away) in Newton Abbot and stayed there until the 2nd March.
David Rowlands and co were not open on a particular site  - but I think are now out and about for private business.